G-H
---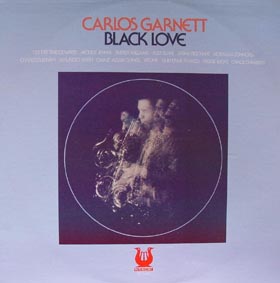 CARLOS GARNETT: Black Love
(Muse 5040 - 1974)
Black Love/Ebonesque/Banks of the Nile
Mother of the Future/Taurus Woman
A huge album with an all-star line up featuring Garnett, Onaje-Allan Gumbs, Buster Williams, Norman Connors, Mtume, Reggie Lucas and the powerful vocals of Dee Dee Bridgewater. Similar to the early output of Mtume, Connors and Gary Bartz this album is full of African influences and black consciousness. The album features the Pharoah-esque style of Garnett and the remarkable vocal range of Dee Dee Bridgewater on Banks of the Nile as well as the original version of Norman Connors' jazz-funk classic Mother of the Future. Previously difficult to find, the album has been re-released on vinyl and CD.
---
MARVIN GAYE: What's Going On
(Tamla TS310 - 1972)
What's Going On/What's Happening Brother/Flyin' High (In the Friendly Sky)/God Is Love/Mercy Mercy Me(The Ecology)
Right On/Wholy Holy/Inner City Blues(Make Me Wanna Holler)
The world as seen through his brothers eyes on his return from Vietnam - the ultimate social comment album and often voted as best album of all time by rock and soul publications both. apparently Marvin battled with Motown's Berry Gordy to get it released - Gaye was supposedly tired of the Motown hit formula of the 60's - and Gordy, worried Marvin might ruin his image may have thought it too depressing and lacking hit singles to sell well. The album is more a suite of tracks - the rhythm section with its laid-back congas wraps Marvin's tortured soul in a blanket and makes for emotional intensity - culminating in Save the Children. His subsequent albums Let's Get It On (1973), I Want You (1976), Here My Dear (1978) and In Our Lifetime (1981) deal more with sex, emotions and Marvin's own inner turmoil than ecology or politics and all remain classics long after his tragic death.
---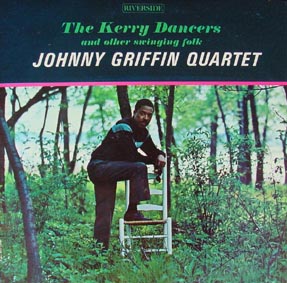 JOHNNY GRIFFIN QUARTET: The Kerry Dancers
(Riverside 420)
The Kerry Dancers/Black Is the Color of My True Love's Hair/Green Grow the Rushes/The Londonderry Air
25 1/2 Daze/Oh, Now I See/Hush-a-Bye/Ballad for Monsieur
Perhaps better known for his work with Kenny Clarke and Francy Boland - the 'Little Giant' Johnny Griffin made a series of thoughtful albums for Riverside that moved away from his reputation as simply one of the fastest tenor players in jazz. The best, but also perhaps the least known of those albums The Kerry Dancers features an entire side of traditional songs newly arranged by Griffin. These make for interesting listening but its side two that really stands out with the tracks 25 1/2 Days, Oh, Now I See and Ballad for Monsieur - the first and last of these being Sara Cassey compositions, the other a Griffin original. The band is a tight quartet with Griffin on sax, Barry Harris on piano, Ron Carter on bass and Ben Riley on drums. The folk theme and the minor blues numbers give this album a feel that leans towards the classic Coltrane sound of the early 60's.
---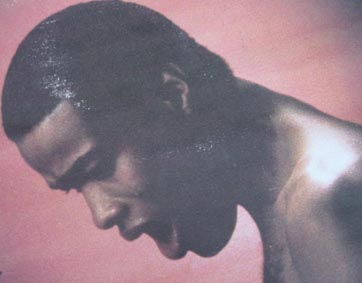 ERAMUS HALL: Your Love Is My Desire
(Westbound WB5000 - 1980)
Your Love Is My Desire/She Shined A Light/Feelin' Higher/Think Positively
Stuck In the Mudd/Just Me and You/Funk Permit/Superfunk/Will You Love Me Tomorrow
One of those albums that was so rare that many doubted as to its actual existence. That was the case until its recent re-issue from the vaults of Detroit's Westbound Records and it was in a backstreet used record store in Detroit that we found an original copy to put safely in the Opart archives! The label copy and artwork are far removed from Westbound's heydey with Funkadelic in the seventies and was probably pressed in very limited quantities. Eramus Hall made another album later in the early 80's but this is his masterpiece. There are a few funk filler tracks but the rest is pure Detroit soul - immaculate production and great songs including a version of J.R.Bailey's Just Me and You and the uplifting title track is simply heaven. Track down the re-issue now!
---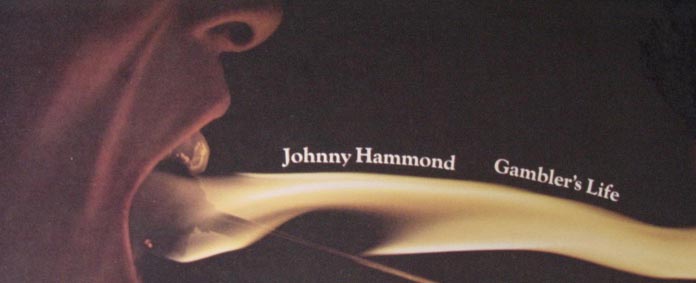 JOHNNY HAMMOND: Gambler's Life
(Salvation SAL702 - 1974)
Gambler's Life/Rhodesian Thoroughfare/This Year's Dream/Star Borne
Back To The Projects/Yesterday Was Cool/Virgo Lady/Call On Me
Organist Johnny Hammond teamed up with the mighty Mizells for two classic albums - Gambler's Life for CTI offshoot Salvation, and Gears for Milestone. Whilst Gears gave us well-known fusion classics such as Shifting Gears, Tell Me What To Do and Los Conquistadores Chocolates - the less well-known Gambler's Life is possibly even better. Complete with Emory Holmes' excellent poetry on the back sleeve - Gamblers and Parables contains the lines: me and my ol' lady fly down, in the space coupe, before cool breezes, from sky high. down to the ear-star lady and her organ man, in with their arps, and moogs, and jazz and things. And that pretty much sums the album up! Funky wah wahs, Johnny Hammond switching from organ to Fender Rhodes for the whole album, the Mizell's themselves on clavinet and Arp String Ensemble and those gorgeous vocal arrangements. Highlights are the intro to the title track, Star Borne and the fast and furious synth-led Back to the Projects.
---
HERBIE HANCOCK: Speak Like A Child
(Blue Note BST84279 - 1968)
Riot/Speak Like A Child/First Trip
Toys/Goodbye To Childhood/The Sorcerer
Herbie's preceding Blue Note albums - Inventions and Dimensions, Empyrean Isles and Maiden Voyage - are all essential jazz albums in the fine Blue Note tradition, but the switch to exploring free harmonies rather than fixed chord structures, and the use of fluegelhorn, trombone and flute instead of the more usual quartet setting makes both this album and Herbie's last for Blue Note The Prisoner - truly innovative. Herbie's method of composing songs in sections comes to the fore on the beautiful title track - elsewhere he includes compositions he performed with Miles Davis: The Riot and The Sorcerer. The whole album has an orchestral feel and Herbie cites his working with Gil Evans as a major influence. This and Herbie's other Blue Note albums are all available again due to Blue Note's excellent re-issue policy.
---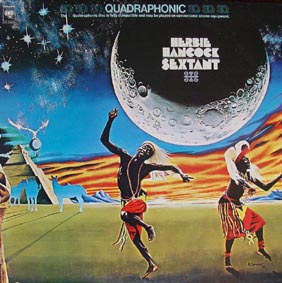 HERBIE HANCOCK: Sextant
(Columbia C32212 - 1973)
Rain Dance/Hidden Shadows
Hornets
For all those interested in electronic music - Herbie's early 70's albums are unsurpassed - starting with Mwandishi (1971) with its mixture of African polyrhythms, unconventional time signatures and processed Rhodes effects and Mellotron through to Crossings (1972) Sextant (1973) the best-selling Headhunters (1974) the Japanese-released only Dedication (1974) Thrust (1974) and the superb 'Death Wish' soundtrack (1974). Some of the tracks run for an entire side - and as on Speak Like A Child Herbie included uncommon horn and reed sections and composed in sections. Fusing the funkier side of Miles Davis' electronic ventures with his own complex jazz compositional style, Herbie's use of synthesisers was more advanced than any other musician at the time. The drafting in of synth-wizard Dr. Patrick Gleeson gave Herbie access to a vast arsenal of synths during the early days of analogue synthesis such as ARP 2600, ARP Odyssey, ARP Pro-Soloist, Gleeson's huge Moog and Emu Modulars, Mini-Moog, Micro-Moog, , etc. But it was the way Herbie processed the Rhodes through Fuzz-Wahs, Phase Shifters, Echoplexi, etc, that gave him his distinctive 'space-funk' sound. Herbie enjoyed commercial success as he took his brand of fusion into the field of disco with hit singles I Thought It Was You (from Sunlight), You Bet Your Love and Tell Everybody (from Feets Don't Fail Me Now) and again with the electro classic Rockit (from Future Shock).
---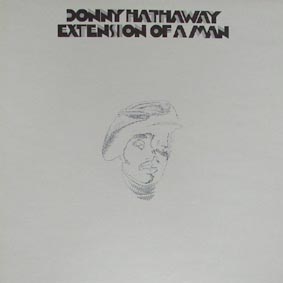 DONNY HATHAWAY: Extension Of A Man
(Atco SD7029 - 1973)
I Love the Lord; He Heard My Cry (Pts 1&2)/Someday We'll All Be Free/Flying Easy/Valdez In the Country/I Love You More Than You'll Ever Know
Come Little Children/Love,Love,Love/The Slums/Magdalena/I Know It's You
The phenomenally talented singer-songwriter Donny Hathaway made a handful of soulful gems before his sad death in 1980. His live performance of The Ghetto is a well-known classic, as are his duets with Roberta Flack - but this album stands as one of the best soul albums ever made. Drawing on the influences of gospel, folk, blues and jazz the album starts with a dramatic pseudo-classical composition and flows through the gospel-tinged Someday We'll All Be Free before the joyful highlights of Flying Easy and Valdez In the Country - tempered by socially aware tracks like The Slums. Many of the albums tracks have been covered by other artists (Cold Blood/Bobby Womack/George Benson, etc) and it also includes Hathaway's own cover of J.R. Bailey's wonderful Love,Love,Love.
---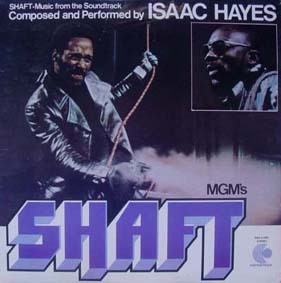 ISAAC HAYES: Shaft
(Enterprise ENS-2-5002)
Theme from Shaft/Bumpy's Lament/Walk from Regio's/Ellie's Love Theme/Shaft's Cab Ride
Cafe Regio's/Early Sunday Morning/Be Yourself/A Friend's Place
Soulsville/No Name Bar/Bumpy's Blues/Shaft Strikes Again
Do Your Thing/The End Theme
The album that started a string of blaxploitation soundtracks throughout the seventies. Shaft remains one of the most solid and powerful soundtracks of this era - driving percussion, hissing hi-hats and a thumping kick drum underpin the famous wah-wah guitar riff of the title track. Isaac Hayes' monologue style vocal remains the epitome of cool despite the tension of the music. The brilliance of the title track often overshadows what is an excellent all-round album - it may be incidental music but the style laid down by Hayes and the Bar-Kays rhythm section became the blueprint for many hundreds of later movies. Also worth checking are Hayes' albums Joy, To Be Continued, Black Moses and Live at the Sahara Tahoe and Hayes' excellent movie scoring continued on Truck Turner (featuring the superb In Pursuit of the Pimpmobile) and Tough Guys.
---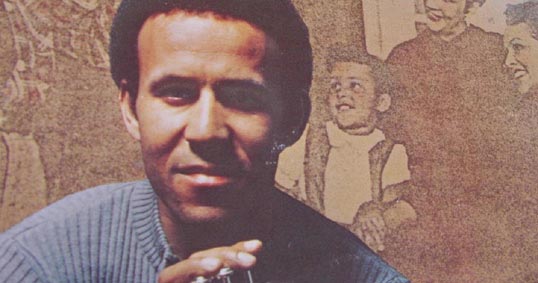 EDDIE HENDERSON: Heritage
(Blue Note BNLA636G - 1976)
Inside You/Acuphuncture/Time and Space/Nostalgia
Kudu/Dr.Mganga/Dark Shadow
Trumpeter Eddie Henderson often shared the same line-up with Herbie Hancock's early 70's bands and therefore its no surprise to find more superb electronic jazz on his own albums. Realization (1973) and Inside Out (1974) on the small Capricorn label feature the same level of experimentation as on Herbie's own albums - not surprising as both Herbie and Dr. Patrick Gleeson feature on keyboards. But Henderson's first two Blue Note albums swapped Herbie for the synth playing of George Duke and Patrice Rushen on Sunburst(1975) and Heritage (1976) respectively. Heritage also features Herbie regulars Julian Priester (trombone) and Paul Jackson (bass) and its pure space-fusion all the way from the opening funk of Inside You. Henderson's piercing style is harsher than Miles, but fits the eerie nature of much of the electronic processing perfectly.
---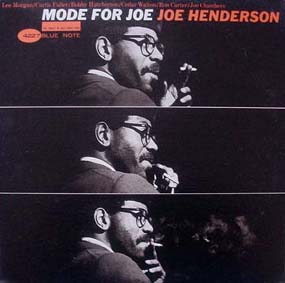 JOE HENDERSON: Mode For Joe
(Blue Note 4227 - 1966)
A Shade of Jade/Mode For Joe/Black
Caribbean Fire Dance/Granted/Free Wheelin'
Another classic Blue Note session in which tenor sax colossus Henderson teams up with the label's heavyweights for the best of his many fine albums from the mid-sixties to the mid-seventies. Previous to this set, the thunderous In 'n Out was Henderson's finest moment - but the combination of his own powerful tenor playing, with Lee Morgan (trumpet), Curtis Fuller (trombone), Bobby Hutcherson (vibes), Cedar Walton (piano), Ron Carter (bass) and Joe Chambers (drums) made this an unforgettable session. A large line-up by mid-60's standards it needed the finest skills of the players to pull it off - and it succeeds hugely. The whole of side one is one of the best 20 minutes or so of Blue Note jazz there is - Cedar Walton's composing (Mode for Joe/Black) and Bobby Hutcherson's delicate vibes being the highlighting features. Henderson's early-70s albums for Milestone are also worth checking out - In Pursuit of Blackness, If You're Not Part of the Solution, Black Is the Color and especially Power to the People for the amazingly beautiful Black Narcissus.
---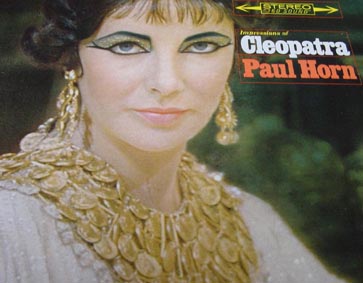 PAUL HORN: Impressions of Cleopatra
(Columbia CS8850 - 1963)
Caesar and Cleopatra Theme/Cleopatra's Palace Music/Love and Hate/Grant Me an Honorable Way to Die
Antony and Cleopatra Theme/Cleopatra Enters Rome/My Love Is My Master/A Gift For Caesar
Paul Horn came to prominence as a member of Chico Hamilton's innovative West Coast band in the fifties before recording a series of albums for Columbia featuring himself and the vibes of Emil Richards. Both Horn and Richards were early exponents of modal jazz - often incorporating unusual time signatures into their compositions on the essential albums The Sound of Paul Horn, Profile of a Jazz Musician and Impressions of Cleopatra. The album cover features a stunning looking Elizabeth Taylor and all the tracks are interpretations of songs from the film score of Cleopatra. Horn is the perfect musician to give the songs an eastern feel and he plays flute or bass flute on each track rather than the more Western sounding sax. It seems pretty obvious Columbia had major plans to make Horn into a white-jazz superstar introducing him on his debut album with a gold star proclaiming 'a new star on Columbia Records' and praise from Miles Davis no less, written large on the front cover. It didn't quite work out that way but Paul Horn continued to make wonderful music nonetheless.He would later visit the Indian sub-continent and recorded a string of albums with classical Indian musicians and perhaps best of all recorded an album of Stevie Wonder, David Crosby and Joni Mitchell compositions called Visions for Epic in 1974 which feauters a rare guest appearence from Joni herself on a beautiful version of Blue.
---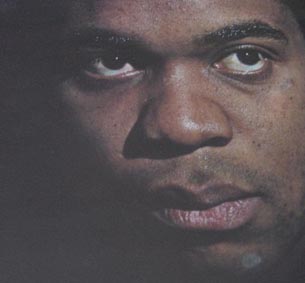 FREDDIE HUBBARD: Backlash
(Atlantic SD1477 - 1967)
Backlash/The Return of the Prodigal Son/Little Sunflower
On the Que-Tee/Up Jumped Spring/Echoes of Blue
After a long period as sessionist and leader with Blue Note recording modern bop albums like The Night of the Cookers, Hub Cap and modern classics like Here To Stay, Breaking Point and Blue Spirits - Hubbard leant towards a more a commercial soul-jazz sound with this album for Atlantic. The whole of side one really cooks from the swing of the title track to the latin tinged Little Sunflower - a track which Hubbard would record again with a beautiful vocal from Al Jarreau on the 1979 Columbia album Love Connection. The added percussion of Ray Barretto gives the whole of side one an afro-cuban feel. Hubbard continued in his slightly left-field, yet commercial vein in his albums for CTI and Columbia in the seventies.
---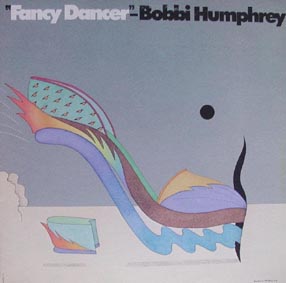 BOBBI HUMPHREY: Fancy Dancer
(Blue Note BNLA550-G - 1975)
Uno Esta/The Trip/You Make Me Feel So Good
Fancy Dancer/Mestizo Eyes/Sweeter Than Sugar/Please Set Me At Ease
Yes, it's the Mizell's again. But just compare flautist Bobbi Humphrey's opening two albums for Blue Note - (full of promise, but inconsistent with many ill-chosen cover versions) to the three produced by the mighty Mizell's Blacks and Blues, Satin Doll (both 1974) and this fine set from a year later. Joined by the great Jerry Peters and Skip Scarborough on piano the Mizells surround Humphrey's rich solos with the usual funk trappings. Again the vocals are wonderful, and You Make Me Feel So Good just sums up everything about the Mizell's carefree, uplifting, sunny West Coast style. Although not re-released in their original format - most of the best tracks from this period are available on a Best of... CD compilation from a few years ago.
---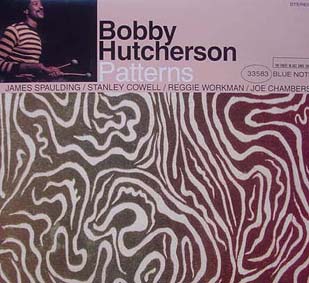 BOBBY HUTCHERSON: Patterns
(Blue Note B17243 - 1968*)
Patterns/A Time To Go/Ankara
Effi/Irina/Nocturnal
Although recorded in '68 - this beautiful album lay in the Blue Note vaults until its rediscovery by Michael Cuscuna in 1980. It was recently released with a fitting Blue Note style cover and on heavyweight 180gram vinyl in Blue Note's excellent Connoisseur re-issue series. This album along with Spiral, Medina and Oblique remarkably weren't released at the time yet they are undoubtedly amongst the finest works in the Blue Note catalogue. Patterns features a classic late 60's line-up containing James Spaulding, Stanley Cowell, Reggie Workman and Joe Chambers and it's the band members who provide the compositions on this occasion. Joe Chambers' Satie-like Nocturnal is perfect for Hutcherson's vibes and Cowell's Effi was a track that became a feature with other bands led by Charles Tolliver and Max Roach of which Cowell was part of. Along with the aforementioned unreleased sessions, Bobby's albums Happenings and Components are essential Blue Note recordings.
---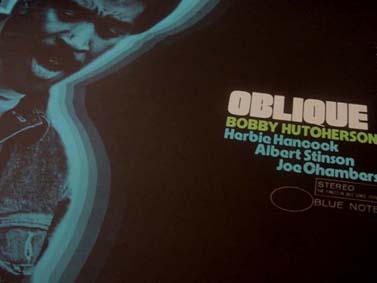 BOBBY HUTCHERSON: Oblique
(Blue Note - Japan GXF3061 - 1967*)
Til Then/My Joy/Theme from Blow Up
Subtle Neptune/Oblique/Bi-Sectional
This fantastic session is even more frustrating as it wasn't even part of Michael Cuscuna's early eighties program of finally putting out unreleased Blue Note sessions. The Japanese are Blue Note fanatics however and this album along with Spiral and Patterns was released with excellent artwork in limited quantities in the mid- eighties. But limited meant very limited and although it was finally re-issued on CD in the States, that too disappeared and the vinyl still fetches frightening second-hand prices. But its worth every penny/cent/yen with the opener being remarkably similar to the incidental Batman series music, and the excellent version of Herbie Hancock's score for Antonioni's cult 60's movie Blow Up. The albums a straight quartet with Bobby and Herbie joined by Albert Stinson and Joe Chambers and reflects Hutcherson's capacity to play 'outside' as well as more straight ahead. This side of him can be found more on his debut for Blue Note Dialogue and on the early seventies albums Head On and Now! Other essential Bobby Hutcherson albums are Total Eclipse and San Francisco.
---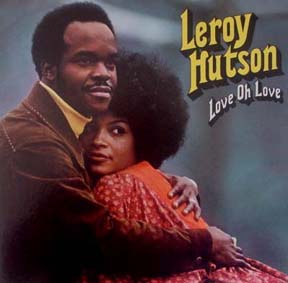 LEROY HUTSON: Love Oh Love
(Curtom CRS8017 - 1973)
So In Love With You/Love Oh Love/When You Smile/Getting It On
Time Brings On A Change/I'll Be There, I'll Still Care/I'm In Love With You Girl/As Long As There's Love Around
Another of black music's finest singers, musicians, writers, arrangers, producers - he did it all! Leroy Hutson's first four albums are all essential. Soulful as hell, with a touch of blues, gospel and jazz - Hutson's high-pitched vocal style just oozes with good vibes. It's an album you can leave on from beginning to end - the ballads fitting in between such uplifting string-laden tracks such as the title track. Those strings could only have come from Chicago - and indeed Hutson was part of the Curtom stable of Curtis Mayfield and The Impressions. There's also some serious funk - such as Time Brings On A Change and the ARP synth workout Getting It On (the theme from The Jay Johnson Affair). Recently re-released on CD .
---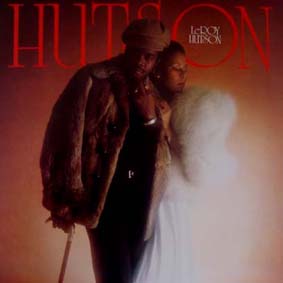 LEROY HUTSON: Hutson
(Curtom CU5002 - 1975)
All Because Of You/I Bless The Day/It's Different
Cool Out/Lucky Fellow/Can't Stay Away/So Much Love
Few would have thought Hutson capable of sustaining the amazing quality of his first two albums Love Oh Love (1973) and The Man! (1974), but if anything he improved! Hutson (1975) and its follow up Hutson II (1976) still fetch tremendously high second-hand prices despite the availability of both albums on re-issue vinyl and CD. Both albums are amazing, but Hutson I as its now known just shades it. Again the songwriting shines through whether it's the funky opener All Because of You or the laid back It's Different. Every track is a killer and check out the chill-out tracks on both albums Cool Out and Situations (Hutson II).